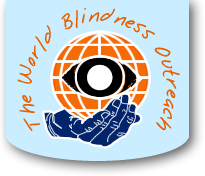 Medical professionals interested in volunteering their time and talents should contact and forward your curriculum vitae to:

World Blindness Outreach, Inc.
1510 Cornwall Road, Lebanon, PA 17042, USA
Telephone (717) 273-0662
or email your curriculum vitae to aalley@comcast.net

Those who would like to serve as hosts for a mission team should be prepared to arrange for living quarters for the members of the mission team, to select an appropriate location for surgery, and to organize local doctors to handle advance screening of patients and, later, post-operative care.
In order to carry out a mission, it is also necessary for the people in the host country to make arrangements for the team to get through customs with all the supplies and equipment that they will bring with them. Also, the team will require help in transporting those supplies to the location where the mission will take place. This is important because between the medical supplies and the personal luggage the team will have over 20 pieces of luggage, weighing over 1,000 pounds. The team will bring along enough supplies and equipment to perform 100 to 200 operations.
We require that a local doctor be selected to serve as the medical coordinator for the mission.
Those interested in hosting eye missions should contact:
World Blindness Outreach, Inc.
1510 Cornwall Road, Lebanon, PA 17042, USA
Telephone (717) 273-0662
or email us at aalley@comcast.net

Donate Money
The World Blindness Outreach is a non-profit organization run entirely through fundraising and donations. Click here to learn more about how you can help to change the lives of those in need of ophthalmological surgery.

Learn More About Donations
Volunteer Your Time
Can't contribute a monetary donation but would still like to help the World Blindness Outreach? Click here to learn how you can volunteer your time to assist those in need.

Learn More About Volunteering
Play Golf
Enjoy a round of golf while contributing to the World Blindess Outreach. The annual WBO Open is held in August at the Lebanon Country Club. Register your pair today!

Learn More About Golfing