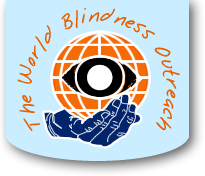 Mission Cataract Lebanon Valley
Mission Cataract Lebanon Valley is a community health outreach program started in 1995 and held annually. Its purpose is to provide free surgery to people in South Central Pennsylvania who are uninsured or under-insured and could not afford the surgery otherwise.
Local ophthalmologists provide initial screenings, and other physicians provide all other pre-surgical screenings at no charge. All physicians, technicians, nurses and support personnel donate their time and services for this project. There is no charge to patients who are eligible. Local Lions Clubs have also pledged support to provide transportation or other assistance as needed.
Eligibility is determined by World Blindness Outreach. Surgical treatment is performed at the Physicians Surgical Center in Lebanon. All information remains strictly confidential. Future projects will be scheduled as the need is identified. For more information or to register, please call:
World Blindness Outreach
717-273-0662
Life Enhancement Award
In 1999, the WBO Life Enhancement Award was created to assist visually impaired people living in Southcentral Pennsylvania with equipment or aid to enhance and improve the quality of their lives.
Over the past seven years, WBO has purchased computers, software, closed circuit TV monitors, musical instruments, educational toys and assisted with basic transportation needs. Each of these items or services have allowed us to help these individuals gain a little more independence in their lives and assistance in their daily living. For example, the recipients for 2007 were Jeana Angelina, Arthur Butterfield, Daniella Dochterman, June Mentzer and Livua Spohn. The list of items that were purchased by WBO include a computer with assistive technology, a large button phone, a Pocket PC and a clarinet. These items, while they may seem insignificant to many of us, have already made a difference in the lives of our recipients and they appreciate your support.
To obtain an application for the Life Enhancement Award, contact the World Blindness Outreach at 273-0662

Donate Money
The World Blindness Outreach is a non-profit organization run entirely through fundraising and donations. Click here to learn more about how you can help to change the lives of those in need of ophthalmological surgery.

Learn More About Donations
Volunteer Your Time
Can't contribute a monetary donation but would still like to help the World Blindness Outreach? Click here to learn how you can volunteer your time to assist those in need.

Learn More About Volunteering
Play Golf
Enjoy a round of golf while contributing to the World Blindess Outreach. The annual WBO Open is held in August at the Lebanon Country Club. Register your pair today!

Learn More About Golfing