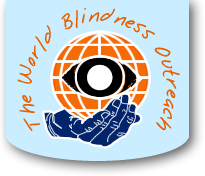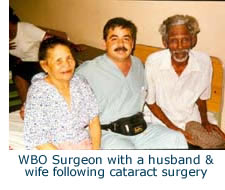 According to the World Health Organization, there are approximately 42 million people who are blind. Most of the blindness in the world could be prevented or surgically treated, but the vast majority of the afflicted have neither the access to medical care nor money to pay for it.
Through his involvement in Rotary International, Dr. Albert A. Alley, an ophthalmologist in Lebanon, Pennsylvania, participated in several international surgical eye-care missions to the Philippines, Nigeria, and India in 1989 and early 1990. The extreme poverty and dire need for medical care that Dr. Alley witnessed firsthand led him to found World Blindness Outreach, Inc., in the fall of 1990. He saw World Blindness Outreach as a way to recruit volunteers and raise money for worldwide surgical eye-care missions.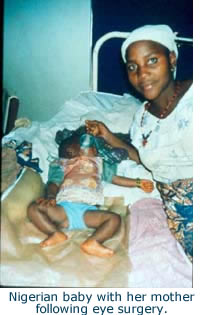 The co-incorporators of World Blindness Outreach included a number of friends who had joined Dr. Alley on eye missions: Dr. William Ebinger, a veterinarian from Rochester, Michigan; Franck Johannesen, an optician from Tamaqua, Pennsylvania; and Erma Zimmerman, a surgical nurse from Lebanon, Pennsylvania.
"We reasoned that a formal organization could do a better job of raising money and recruiting participants for more missions than we could as individuals," said Dr. Alley, who today continues to serve as president of World Blindness Outreach.
World Blindness Outreach adopted the following mission statement at its inception: "World Blindness Outreach, Inc., is a humanitarian organization created to support the volunteer efforts of dedicated doctors whose missions to countries around the world are helping to restore sight to indigent and disadvantaged people suffering from preventable or curable eye diseases."
The Internal Revenue Service approved World Blindness Outreach as a 501(c)(3) nonprofit corporation in December 1990.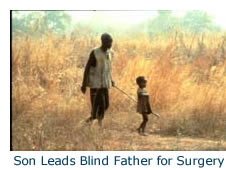 Since 1990, World Blindness Outreach volunteer medical teams have performed more than 10,000 cataract, corneal transplant, glaucoma, and strabismus surgeries on 80 missions to 25 countries, often under the most challenging of conditions.
Teams supported by World Blindness Outreach have visited Egypt, the Dominican Republic, China, Guyana, India, Nigeria, Brazil, Belize, Mexico, the Ukraine, Peru, Nicaragua, and Vietnam among other countries.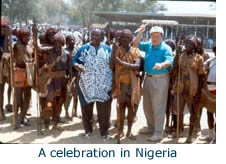 The organization also has distributed tens of thousands of dollars of donated supplies and equipment—including microscopes, slit lamps, projectors, surgical instruments and trial lens sets—to eye clinics and surgical facilities in underdeveloped areas. It also has helped to train dozens of doctors, nurses and technicians at these clinics and facilities.
World Blindness Outreach began public fund-raising in July 1991 with a benefit golf tournament in Hershey, Pennsylvania. Sam Bowie, a professional basketball player with the National Basketball Association's New Jersey Nets, and Doug Tewell, a professional golfer touring with the Professional Golfers Association, were among the participants. The event raised more than $35,000. Today the World Blindness Outreach benefit golf tournament is an annual event.

Donate Money
The World Blindness Outreach is a non-profit organization run entirely through fundraising and donations. Click here to learn more about how you can help to change the lives of those in need of ophthalmological surgery.

Learn More About Donations
Volunteer Your Time
Can't contribute a monetary donation but would still like to help the World Blindness Outreach? Click here to learn how you can volunteer your time to assist those in need.

Learn More About Volunteering
Play Golf
Enjoy a round of golf while contributing to the World Blindess Outreach. The annual WBO Open is held in August at the Lebanon Country Club. Register your pair today!

Learn More About Golfing