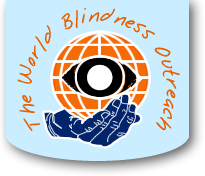 Eye Mission to Nicaragua:
Buffeted by Hurricane Mitch
Special to the Ocular Surgery News
By Dr. Albert A. Alley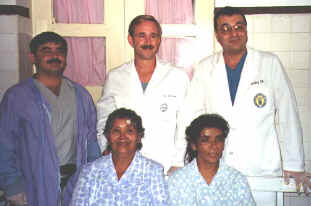 In previous trips to far corners of the world, the doctors, nurses, and support staff of World Blindness Outreach have had to contend with difficult conditions—lack of equipment, poor sanitation, and disease-wracked populations. But our surgical eye mission to Nicaragua from October 24 to November 1, 1998, was the first time Mother Nature tried to seriously compound the challenge.
Hurricane Mitch rattled windows and shook roofs as we performed close to 100 cataract surgeries during the week we spent at San José Hospital in the town of Diriamba, a 40-minute drive from the capital of Managua.
We encountered wet weather on a trip to Guatemala last year, but it was nothing compared to this. The rain started shortly after we arrived in Nicaragua and continued for the entire week as the hurricane blew over top of us. The surprising thing was that the patients were undeterred. New patients showed up every day and the previous day's patients came back for follow-up care despite the raging storm.
This trip—the 25th for World Blindness Outreach—was arranged in cooperation with Catholic Relief Services and a Rotary Club in Diriamba, Nicaragua. This was the first time we had worked with Catholic Relief Services and we hope it will lead to an ongoing relationship.
We chose Diriamba because of need. No eye surgery was being done at all in the area, and we hoped our visit would provide the impetus for establishment of an eye surgery program at San José Hospital, where we were based. The hospital is a clean, efficiently run facility administered by a Catholic nun, Sister Claudia Castillo. We also worked with Dr. Francisco Castro, a Russian-trained ophthalmologist, whom we hope will be able to carry on with the materials we left behind: a slit lamp, a surgical microscope, and a set of surgical instruments.
The members of our team of volunteers were: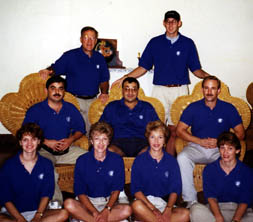 Jason Say, Web Technologies Coordinator of Good Samaritan Hospital in Lebanon, Pennsylvania, who helped screen patients.

Sharon Yingst, a surgical counselor with Premier Eye Care in Harrisburg, Pennsylvania.

Allison Henry, a certified ophthalmic technician with Retina and Oculoplastics Consultants in Camp Hill, Pennsylvania.

Cindy Rostad, a registered nurse at Lancaster General Hospital in Lancaster, Pennsylvania.

Dr. William Busch of Pensacola, Florida.

Dr. Eduardo Miller of Nogales, Mexico.

Dr. William Ebinger and his wife, Diane, of Rochester, Michigan.
Our team stayed in faculty housing at a college near the hospital. We never felt in danger from the storm, but we did lose electricity intermittently during the week. Flooding wasn't a problem while we were there, but by our last day the continued wet weather had started to cause mudslides. When we left, Catholic Relief Services hurried us along because of the danger of the road being closed by slides. Our flight home from Managua was delayed two days because of the weather.
Since 1990, World Blindness Outreach has performed more than 2,000 eye surgeries on 25 missions to 15 countries.