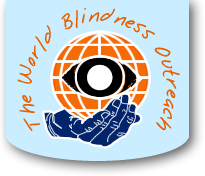 Alley team's visit a sight for sore eyes in Ethiopia
By Ben Hackman
Article Published in The Lebanon Daily News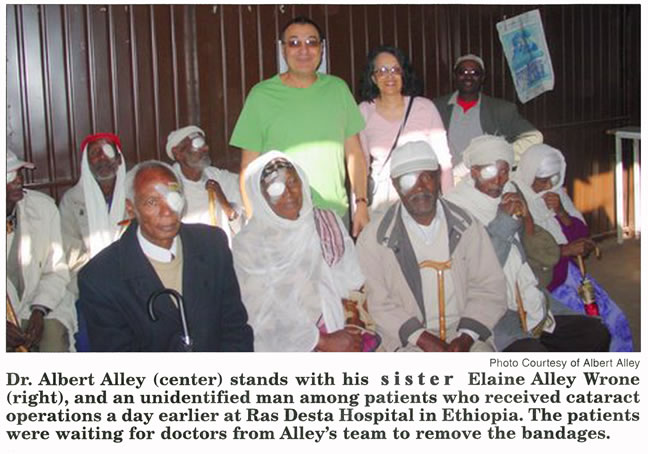 If seeing is believing, then a local doctor can be credited with making believers out of thousands. Last month, Dr. Albert Alley, an ophthalmologist who practices in North Cornwall Township, went with World Blindness Outreach to Ethiopia to perform free cataract operations on blind people who could not otherwise afford the procedure.
The World Blindness Outreach is a local non-profit organization Alley co-founded in 1990. It has sponsored 60 missions to 25 countries, including china, India, Ukraine, Egypt and Brazil.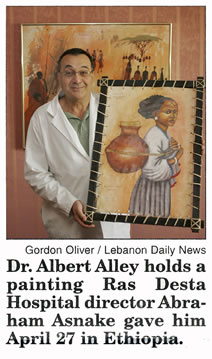 Eleven people, including three doctors, went on the trip to Ethiopia. From April 19-27, they performed 175 cataract operations at Ras Desta Hospital in Addis Ababa, Ethiopia's capital.
Alley, 68, the group's medical director, said there were so many people who wanted eye surgery that he and his team could only perform surgery on one eye of each patient. "Usually we would start operating about eight o'clock, and then we'd operate 'til five or six in the evening," he said.
A cataract operation takes 30-45 minutes to complete. Each operation, which in Pennsylvania could cost between $3,000 and $5,000, was free for the patients.
Alley said the group took along all the supplies and equipment needed for the operations, including a phacoemulsification machine to remove the cataracts and an autoclave to sterilize the surgical tools.
"It's something that I look forward to doing," Alley said of the trips. "It gives me such a great deal of satisfaction to be able to do this. The patients are very appreciative."
Eighty percent of people who are blind in Ethiopia could have had their condition prevented or treated surgically, Alley explained.
"There's a tremendous need for these people to receive some sort of outside help," he said.
Cataracts are thought to be part of the aging process, Alley added. Poor living conditions and inadequate diets may also contribute, and greater exposure to ultraviolet light in tropical zones could cause cataracts more frequently, he added.
An annual fund-raiser, a Rotary Foundation grant and private donations helped defray the trip's expenses.
Alley said the World Blindness Outreach is preparing to go on a similar trip to Ecuador in September.
BenHackman@LDNews.com