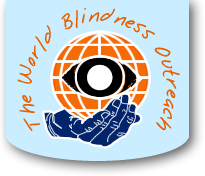 The general mission of the World Blindness Outreach, Inc. (WBO) is to treat preventable and correctable blindness and eye disease of individuals in Third World countries and in the United States.
World Blindness Outreach, Inc. as a non-profit humanitarian organization that recruits volunteer physicians, technicians, and other support personnel and solicits and purchases equipment and supplies for their use on short term international eye missions.
World Blindness Outreach, Inc. provides surgical intervention to indigent individuals identified by medical personnel and service agencies in the geographic area to be served.
Local medical personnel assist in the procedures and are simultaneously trained to enable them to continue the work and to perform follow-up services for those individuals treated by the mission team.
World Blindness Outreach, Inc. is an ambassador of good will, of international understanding and better relations between peoples around the world.
Since 1990, World Blindness Outreach has performed more than 10,000 eye surgeries on over 85 missions to 25 countries.
Dr. Albert A. Alley, a diplomate of the American Board of Ophthalmology, practices in Lebanon, Pennsylvania, and is a former clinical assistant. He is a co-founder and the president of World Blindness Outreach, Inc., a humanitarian organization that supports eye missions to treat correctable blindness and preventable eye diseases among indigent peoples throughout the world.
You can contact Dr. Alley at World Blindness Outreach, Inc., 1510 Cornwall Road, Lebanon, PA 17042 or at (717) 273-0662.
| | | | | |
| --- | --- | --- | --- | --- |
| The World Blindness Outreach is a non-profit organization run entirely through fundraising and donations. Click here to learn more about how you can help to change the lives of those in need of ophthalmological surgery. | | Can't contribute a monetary donation but would still like to help the World Blindness Outreach? Click here to learn how you can volunteer your time to assist those in need. | | Enjoy a round of golf while contributing to the World Blindess Outreach. The annual WBO Open is held in August at the Lebanon Country Club. Register your pair today! |